On May 17, 2017 the Vietnam National Petroleum Group (Petrolimex/Group) and the JXTG Nippon Oil & Energy Corporation (JXTG-NOE) signed a cooperation deal on training in petroleum engineering at the Petrolimex headquarters, No 1 Kham Thien Street, Hanoi.

Petrolimex Deputy General Director Vuong Thai Dung witnesses the signing of co-operation agreement between Head of the Project Team, JXTG's Technique and Project Department Yoshifumi Morita and Head of the Technology & Safety Division of Petrolimex Ngo Quang Toan
Attendees to the signing ceremony include Petrolimex Deputy General Director Vuong Thai Dung, and leaders and officials of the Petrolimex Technology & Safety Division, and the Personnel Organisation of Petrolimex Project Department.
The main content of the agreement is to unify the content framework for curriculum development, and training plan for 2017 and the coming fiscal years under the framework of the Technical co-operation project signed between Petrolimex, the Japan Co-operation Centre, Petroleum (JCCP), and JXTG.
In 2017, the training is expected to focus on safety management, environmental protection, and response to any oil spills at petroleum projects. The training content in the years to come will be agreed upon and updated by both sides in line with development orientation.
The training programme will facilitate the technical staff of Petrolimex and its member companies to participate into training courses in Japan and/or in Vietnam.
Addressing the signing ceremony, Petrolimex Deputy General Director Vuong Thai Dung said "The technical training programme marks a new development in the strategic co-operation between Petrolimex and JXTG; which helps enhance and complete qualifications and skills of staff in technical management and operation of petroleum projects meeting international standards in the integration process."
On April 1, 2017, Japan's JX Holdings, Inc. and TonenGeneral Sekiyu K.K finalised an agreement to form the country's biggest oil refiner called JXTG. The merger made JXTG one of Asia's largest corporations, globally competitive in the trading of energy, resources and new materials, of which the trading of petroleum accounts for 50 per cent of the market share in Japan.
Some images feature the signing ceremony: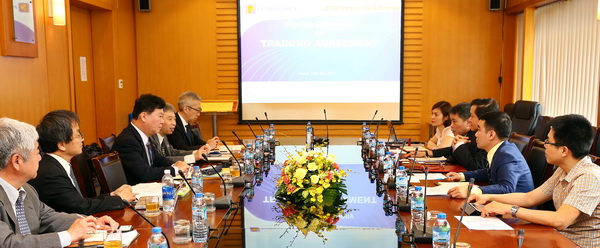 Whole view of the signing ceremony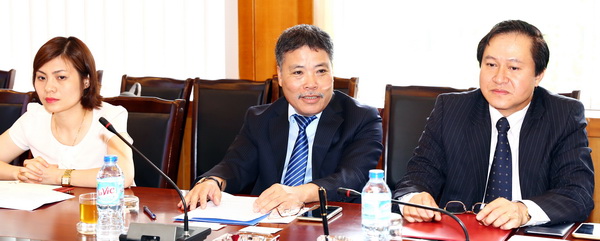 Petrolimex Deputy General Director Vuong Thai Dung makes a speech



Head of the Project Team, Technique and Project Department of JXTG Yoshifumi Morita takes the floor