The historic flood from October 14-17 has caused serious damage to local people in the central Quang Binh Province. More than 92,000 houses were inundated, 56 house roofs blown off, 18 houses collapsed, 25 found dead and missing, many traffic routes separated, and lots of people's assets were washed away by flood currents.
The Petrolimex Quang Binh itself witnessed many petrol stations being flooded over 1m deep, or even 1.5m deep for days such as petrol stations in Le Thuy and Tuyen Hoa districts. In water-ravaged areas, some petrol stations were completely isolated and only reachable by boats. Houses of the company's 50 employees were inundated, some were even flooded to rooflines and some had economic losses up to a billion dong.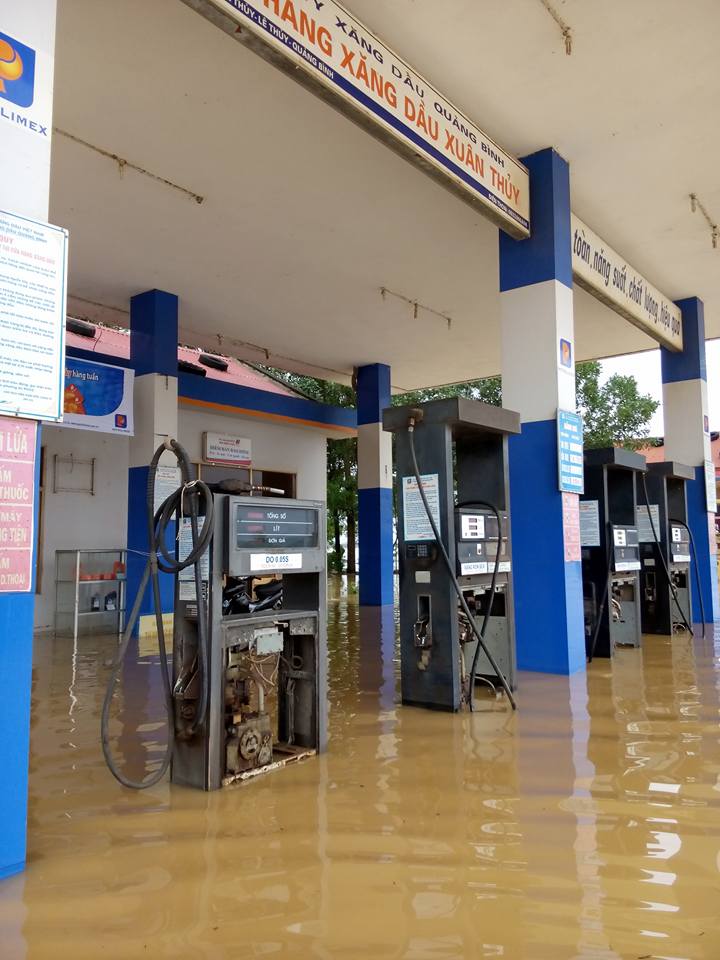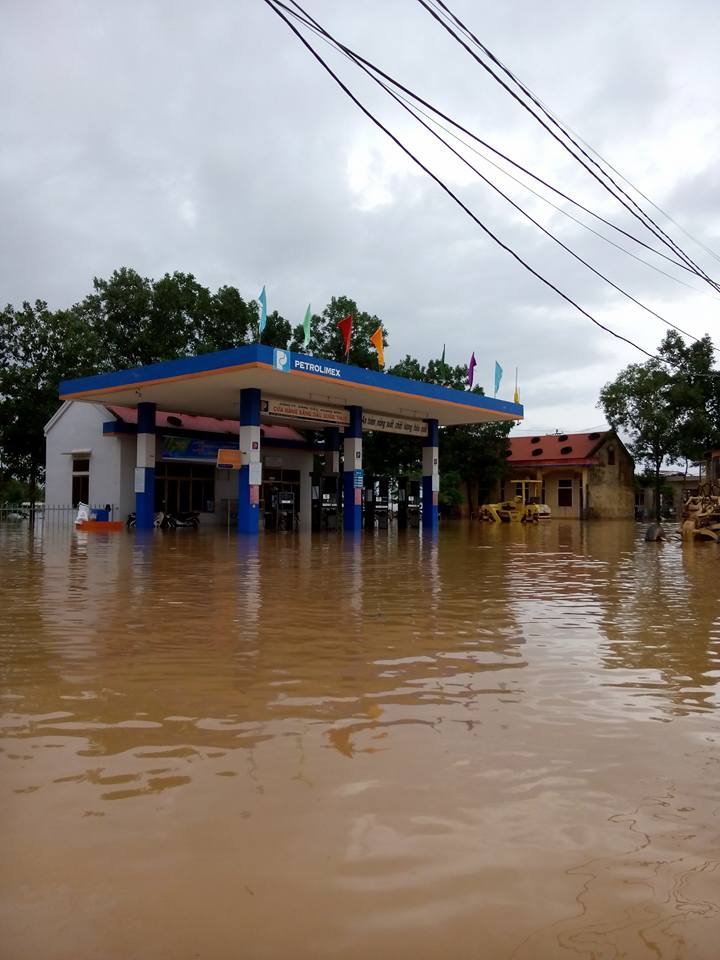 A Petrolimex Quang Binh petrol station is closed because of flooding
Though heavily-hit by the historic flood, Petrolimex Quang Binh took prompt actions to tackle the floods with a quick and determined mind. From the Steering Board, Leadership to the whole company staff, all proactively made preparations and plans to deal with the floods, ensuring complete safety for people, goods and property. Soon after the floods receded, Petrolimex Quang Binh quickly recovered its operation to satisfy demands of local people.
Learning about the heavy damage caused by the floods to people in Quang Binh Province and to Petrolimex Quang Binh staff, the leadership of Vietnam National Petroleum Group (Petrolimex/Group) and Vietnam National Petroleum Trade Union quickly gave their regards to flood-hit families. They also spent VND400 million (US$17,000) from the Group's Social Fund to provide financial support for the company's affected families (VND100 million) and the province's affected families (VND300 million).
In order to assist relief efforts of Petrolimex Quang Binh, leaders of many Petrolimex member companies phoned Petrolimex Quang Binh leaders to convey their regards and urged their companies' staff to contribute some financial support.
Such activities are a strong spiritual encouragement to Petrolimex Quang Binh leaders and staff to help them quickly overcome difficulties and soon stabilise production and business as well as the spiritual and material life of labourers.

Petrolimex Quang Binh also spent VND100 million from the company's Welfare Fund to offer financial support for heavily-affected families of the company's staff, and another VND100 million to support schools and students in flood-hit areas.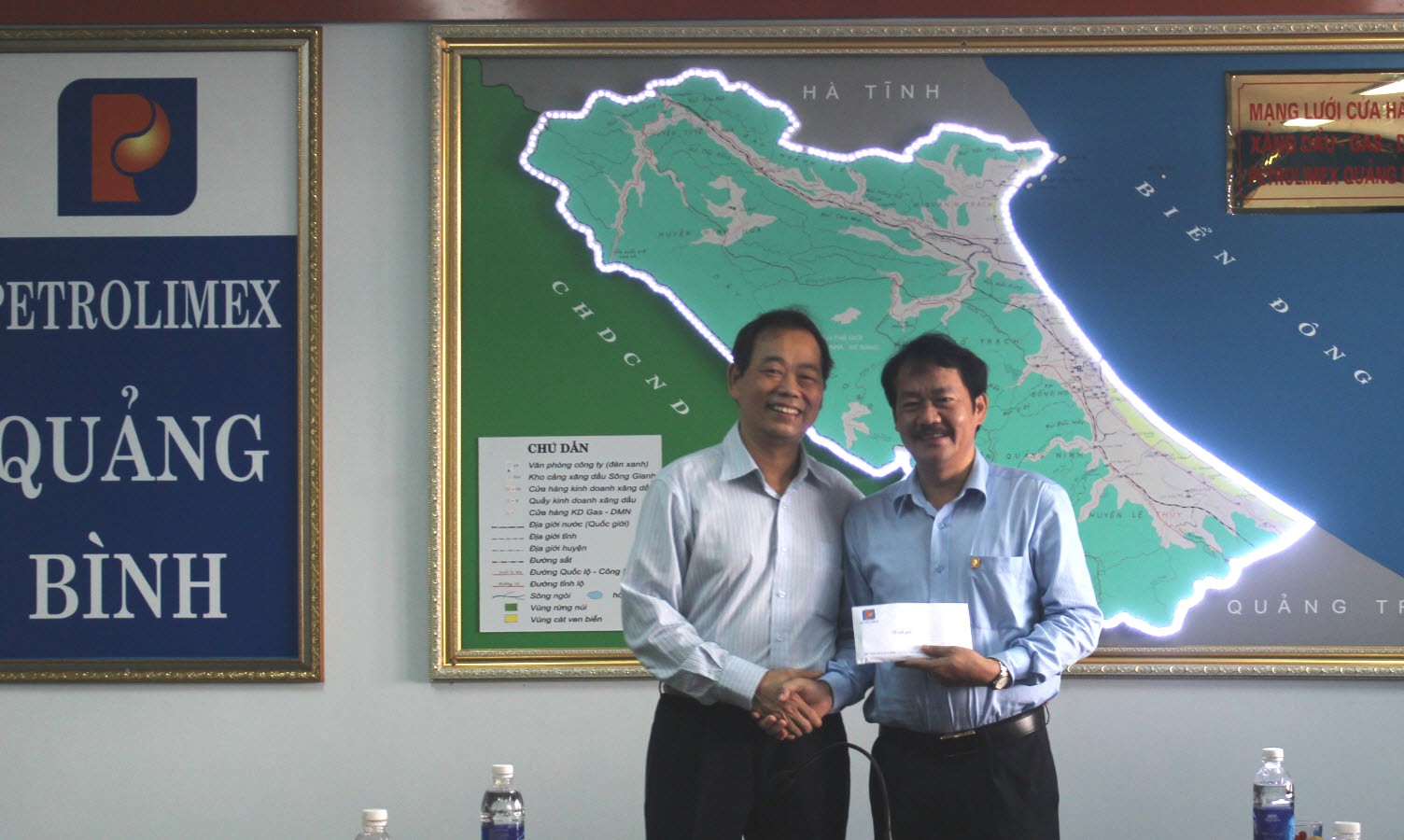 Chairman and Director of Petrolimex Quang Binh, Le Anh Hung, receives financial support from Petrolimex Saigon (granted by Petrolimex Saigon Chairman, Nguyen Van Canh), Petrolimex Da Nang (granted by deputy director, chairman of Petrolimex Da Nang Trade Union, Tran Van Nhan), Petrolimex North Tay Nguyen (granted by chairman and director of Petrolimex North Tay Nguyen, Vu Huy Tri), and Petrolimex Hanoi (granted by chairman and director of Petrolimex Hanoi, Tran Dac Xuan)
On October 22 and 23, a delegation of Petrolimex Quang Binh led by Chairman and Director, Le Anh Hung, and representatives from the company's Party Standing Committee and Youth's Union, and Trade Union Chairman made a visit and presented gifts to 50 flood-hit households of Petrolimex Quang Binh's employees in order to help them soon stabilise their life. The presents worth VND200 million were contributed by Petrolimex and Petrolimex Quang Binh.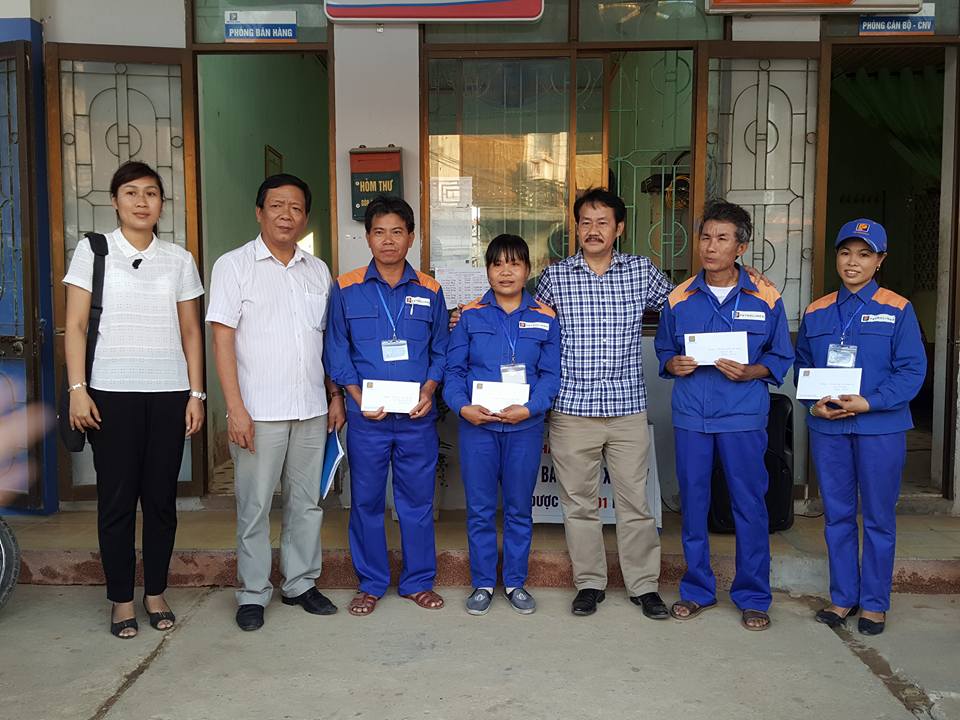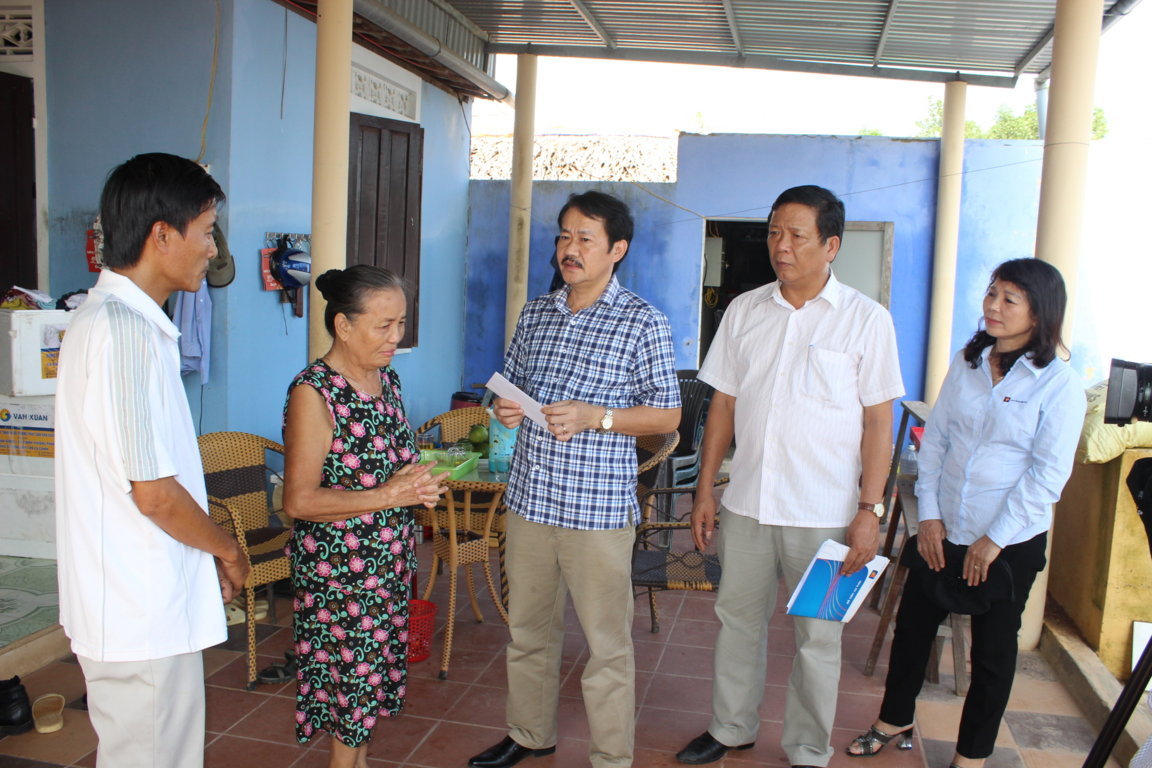 Chairman and Director of Petrolimex Quang Binh, Le Anh Hung, visits and presents gifts to units and families of the company's staff that were heavily affected by the flooding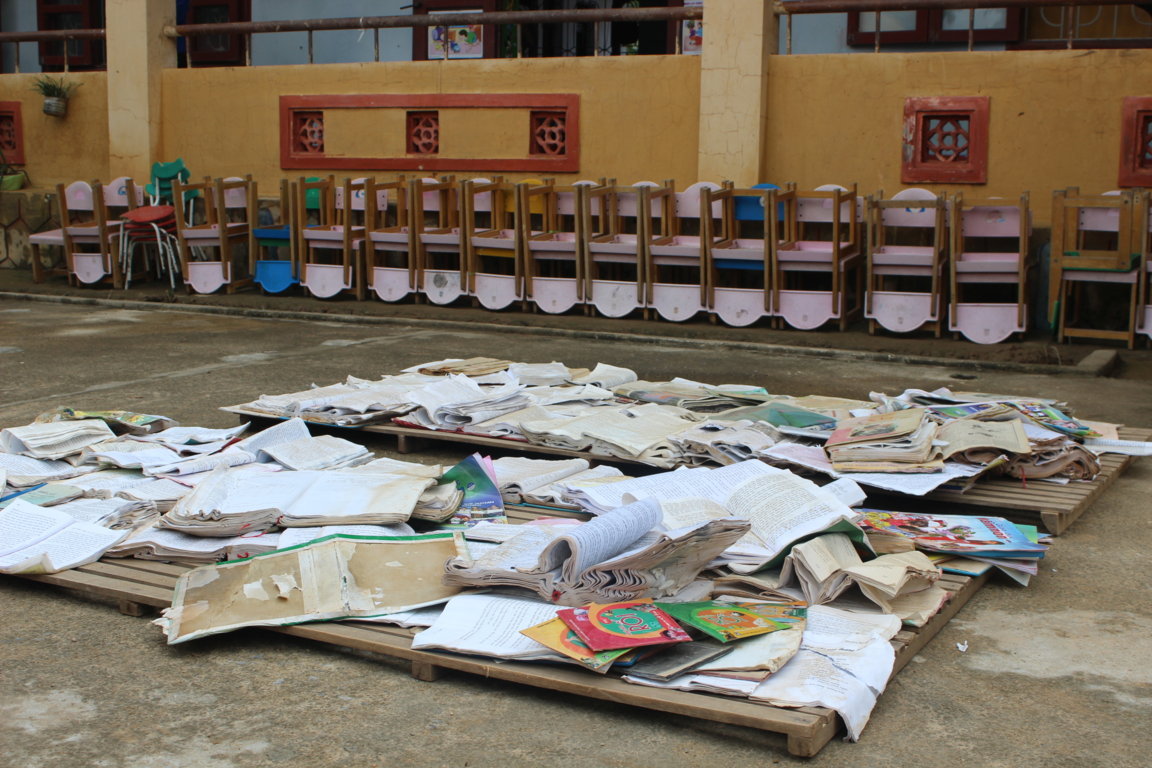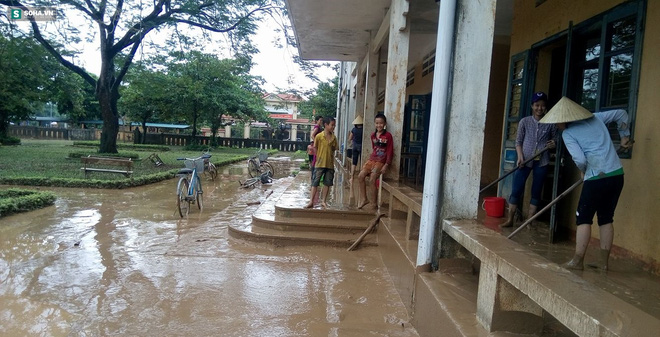 Many schools located in the flood zone are struggling to make good the damage
On October 24 and 25, as introduced by Quang Binh Province's Confederation of Labour, Petrolimex Quang Binh visited nine schools heavily hit by the floods in Lien Trach, Tan Hoa, Duc Hoa, Phu Hoa, Quang Loc, Vo Ninh, and Son Thuy communes. On behalf of the Group leadership, Petrolimex Quang Binh delegation, the provincial Confederation of Labour's leaders, and authorities of districts and communes visited and granted presents to nine schools and students in help the schools overcome difficulties to enable pupils to soon get back to school and complete the 2016-17 school year. The presents including books and notebooks, computers, and cash worth a total of VND400 million were donated by Petrolimex and Petrolimex Quang Binh.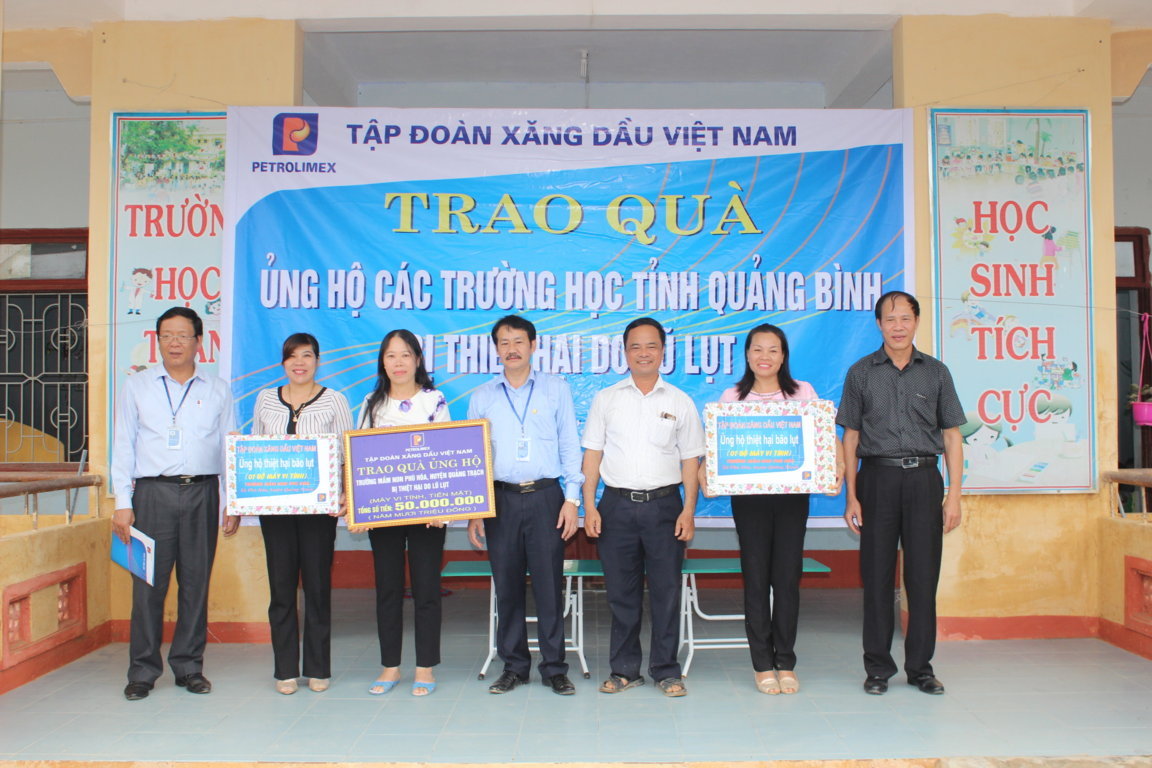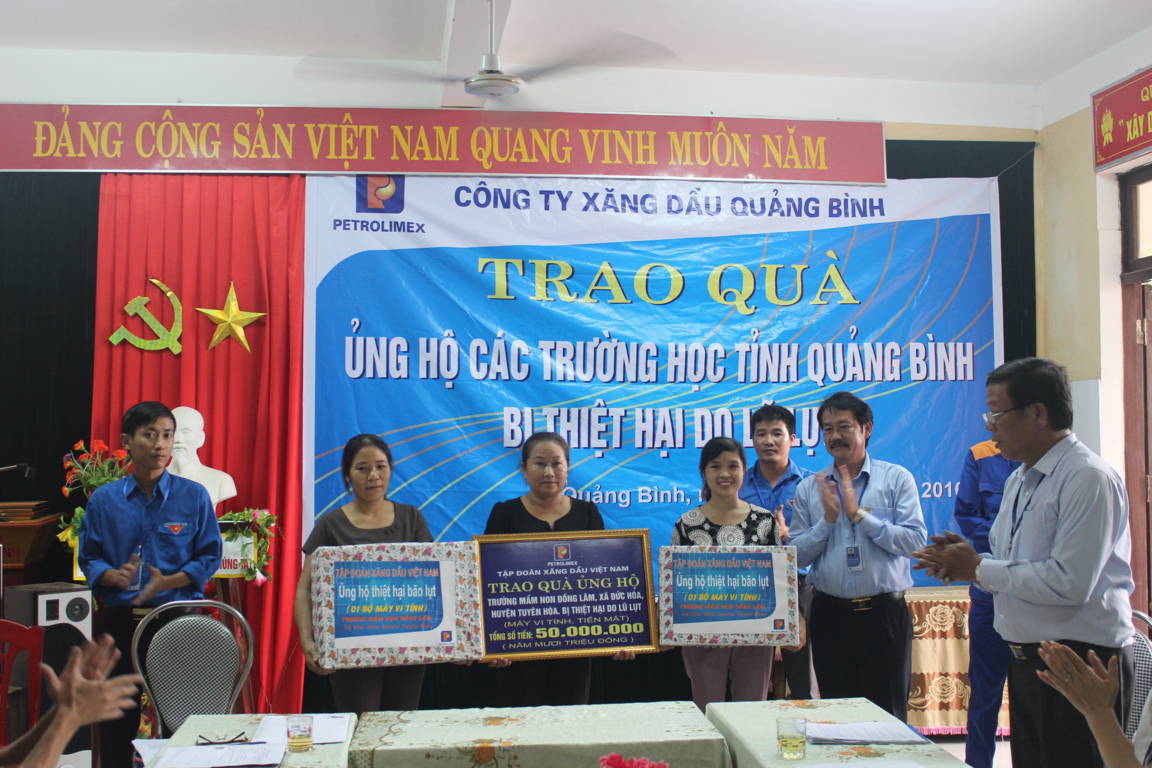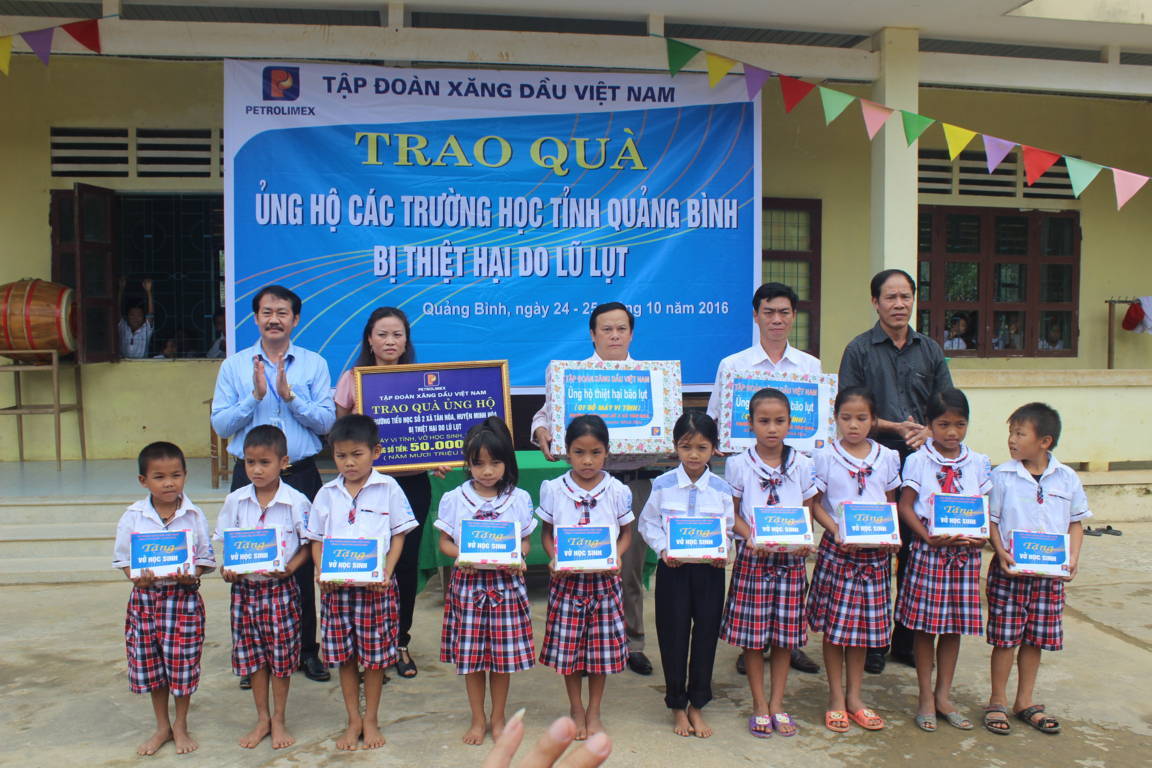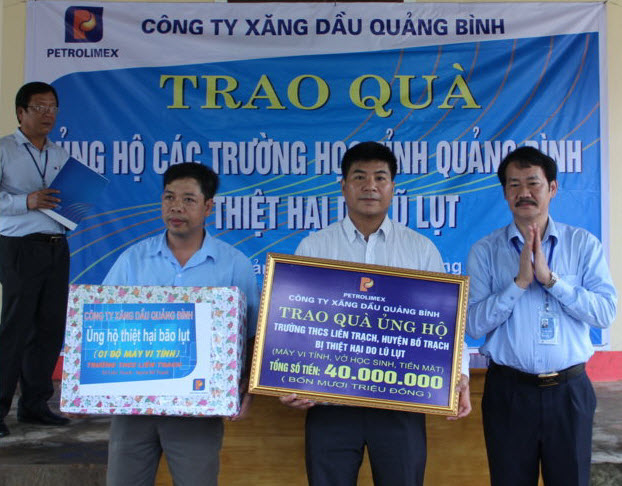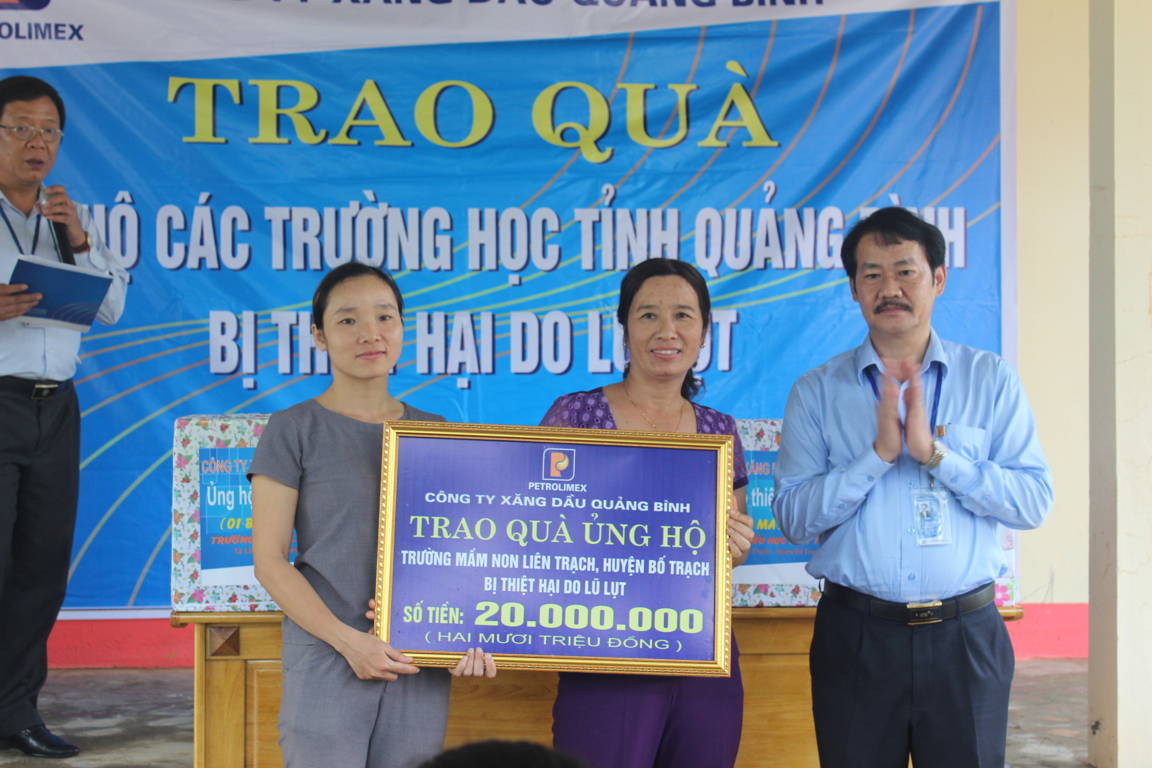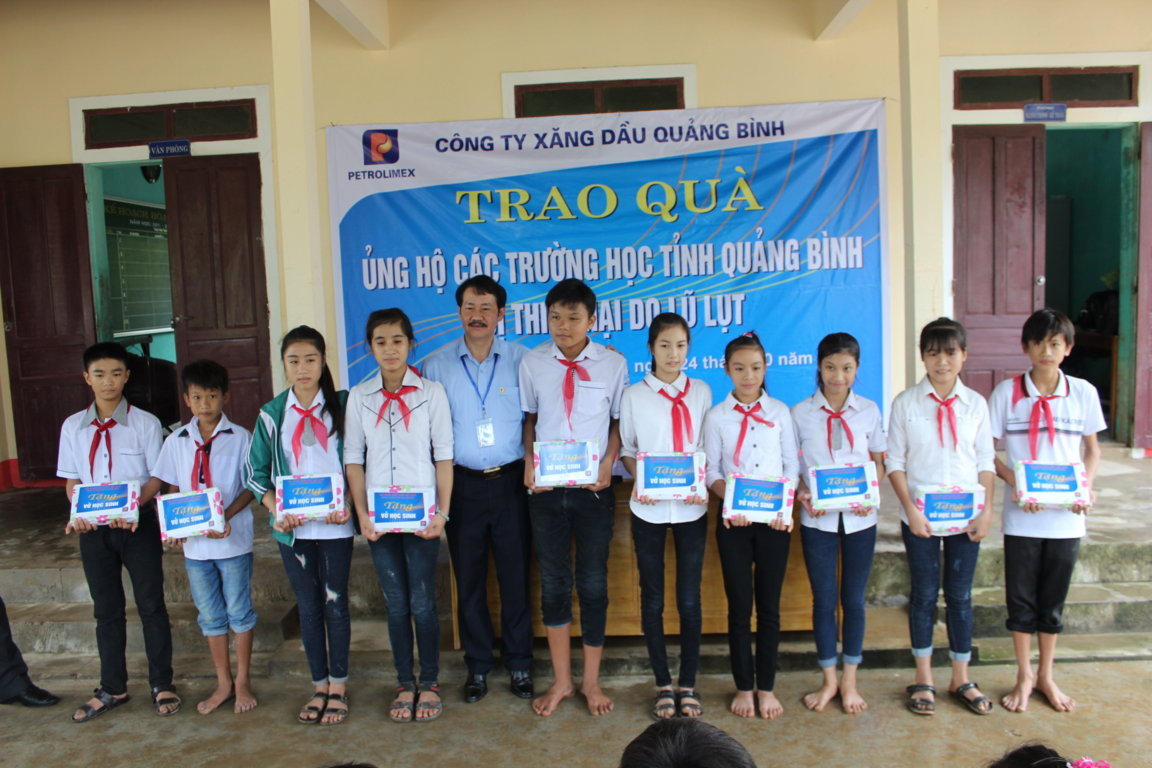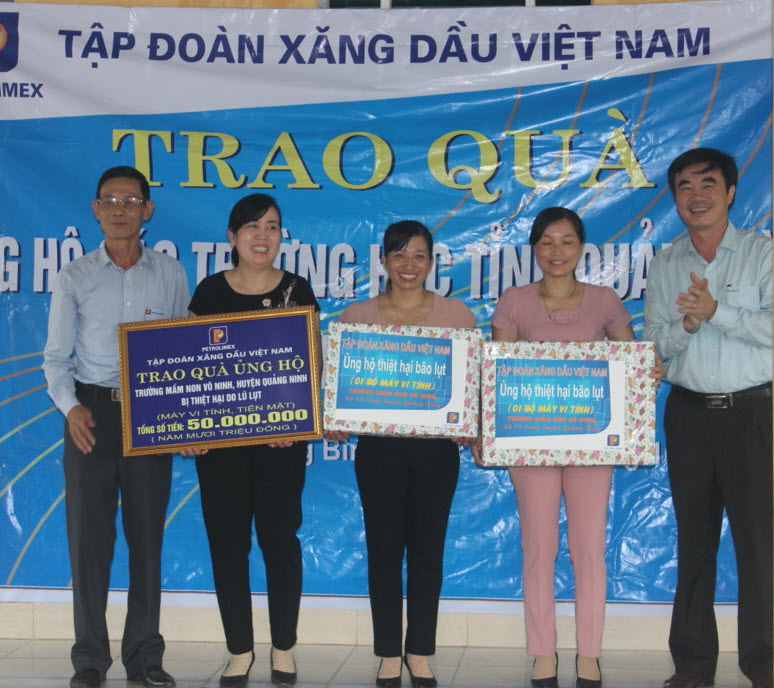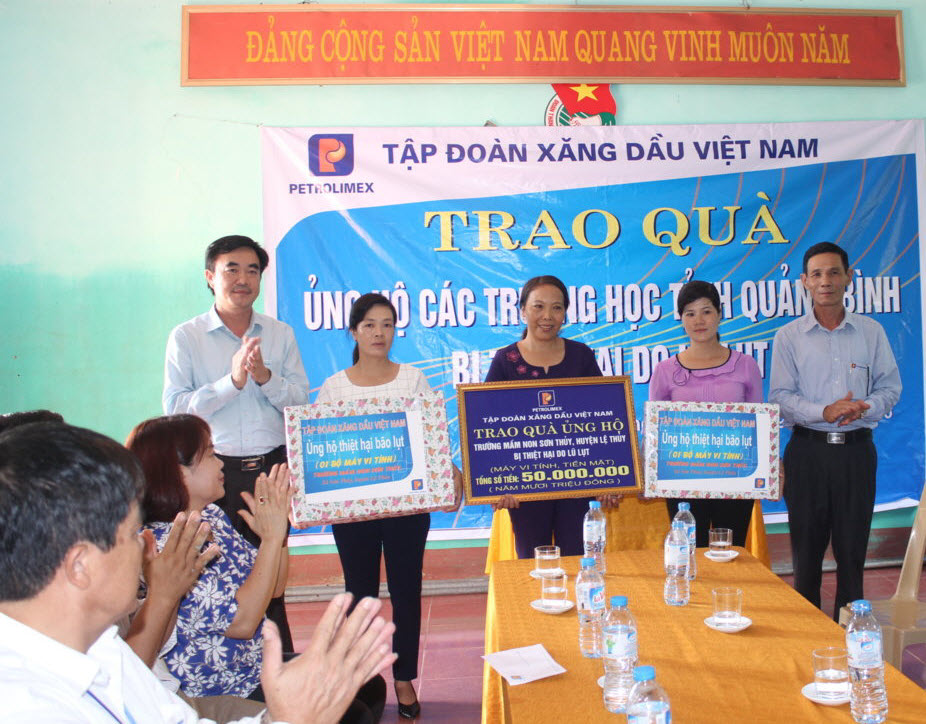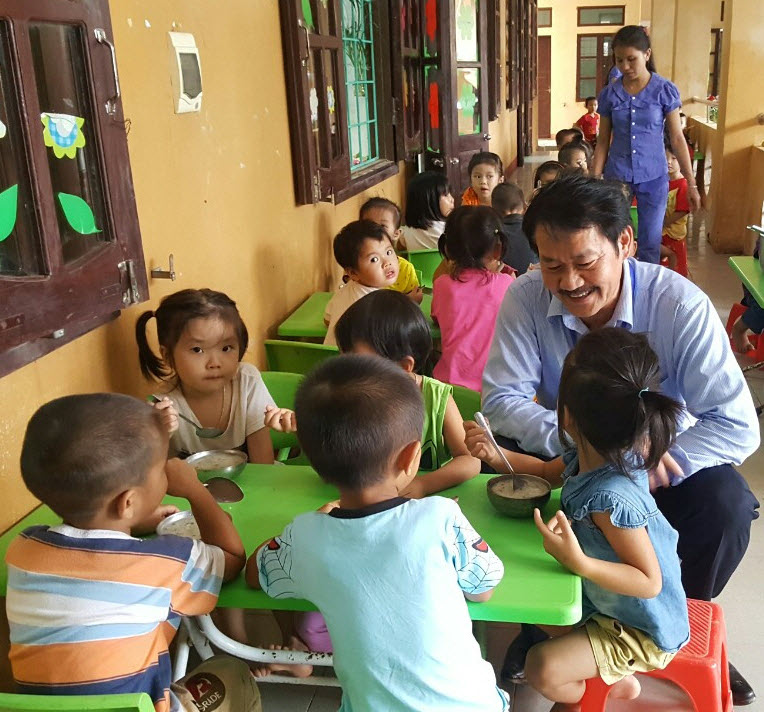 Petrolimex Quang Binh representatives visit and present gifts to schools and students in the flood zone
Petrolimex Quang Binh leaders and employees would like to express deep gratitude to Petrolimex leadership, Petrolimex Trade Union and Petrolimex member companies: Petrolimex Saigon, Petrolimex Da Nang, Petrolimex North Tay Nguyen, and Petrolimex Hanoi, among others for their prompt sharing and support for Petrolimex Quang Binh staff and people in Quang Binh Province in order to help Petrolimex Quang Binh soon recover operation and help local people in food-hit areas overcome difficulties, recover production and stabilise life.
It is believed that with the traditional spirit of mutual affection and mutual support flowing throughout the whole Petrolimex family, difficulties will soon be addressed, and Petrolimex Quang Binh will soon stabilise its operation to gain satisfactory business results in the coming time.