Taking the lead in the production and trading of Petrolimex lubricants, asphalts and chemicals
Petrolimex Petrochemical Corporation (PLC) has always taken the lead in approaching scientific and technological advances and progressive management practices, and attached much significance to the development of high quality human resources. All PLC's products are strictly managed with quality being ensured through quality control laboratories satisfying the national standard ISO/IEC17025:2017 in Hai Phong and HCM City.
PLC is also one of the pioneers in equitisation. Formerly known as Lubricant Company, Petrolimex Petrochemical Corporation was established on June 9, 1994. On October 13, 1998, the Lubricant Company was renamed Petrochemical Company under the then Vietnam National Petroleum Corporation. On December 23, 2003, the Lubricant Company was privatised. On March 1, 2004, the Petrolimex Petrochemical Joint Stock Company was officially put into operation.
Scope of operations
Market share of Petrolimex petrochemical products in market
PLC products are internationally-recognised, well-received abroad
PLC products are exported to countries and territories such as Laos, Cambodia, mainland China, Hong Kong, Taiwan, the Philippines and so on. Since 2004, the Japanese Automotive Standards Organisation (JASO) has granted JASO certificates to PLC's motorcycle lubricants.
---
Lubricant plant – warehouse system
PLC has three warehouses that have large capacity and high productivity. Dinh Vu Warehouse is expected to be operational in 2021
| | | | | |
| --- | --- | --- | --- | --- |
| Thuong Ly | 13.7K cu.m | 260 cu.m | 655 cu.m | 1,115 cu.m |
| Nha Be | 16.8K cu.m | 100 cu.m | 1,255 cu.m | |
| Dinh Vu | 6.3K cu.m | | | |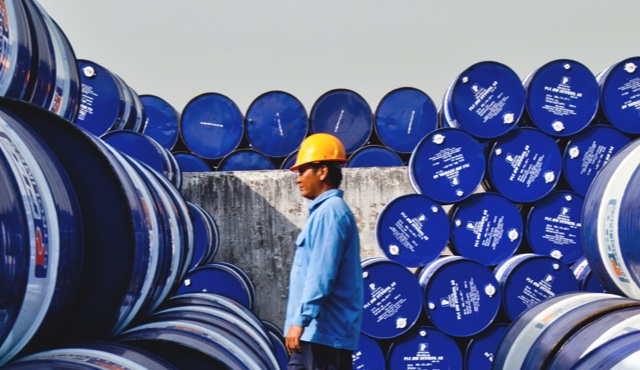 ---
Scope and fields of business
PLC had a charter capital of VND808 billion by December 31, 2020, in which Petrolimex owns 79.07%.
Lubricant:
PLC has two lubricant plants with blending capacity of up to 125,000MT per year.
PLC has two VILAS* labs: VILAS 017 in Hai Phong and VILAS 022 in Ho Chi Minh City, meeting the national standards.
[*VILAS stands for Vietnam Laboratory Accreditation Scheme]
Asphalt:
The Asphalt Company is the only company in Vietnam that manages and operates seven liquid asphalt plants nationwide: Thuong Ly (Hai Phong City); Cua Lo (Nghe An Province); Tho Quang (Da Nang City); Quy Nhon (Binh Dinh Province); Cam Ranh (Nha Trang Province); Nha Be (Ho Chi Minh City) and Tra Noc (Can Tho City) with total storage capacity of 39,650cu.m and production chains of emulsified asphalt, Polime asphalt and liquid asphalt. The Asphalt Company manages more than 70 special-purpose tank trucks with capacity between 10 and 16 tonnes to transport liquid and hot asphalt to construction sites of road, bridge, port and airport projects
Chemical:
The Chemical Company has three chemical warehouses in Thuong Ly (Hai Phong City), Dinh Vu (Hai Phong City) and Nha Be (Ho Chi Minh City) with total capacity of 52,080cu.m. The Nha Be Chemical Warehouse has a total storage capacity of 26,800cu.m; in March 2019, the Dinh Vu Petrolimex Solvent - Chemical Warehouse was built on an area of 25,370sq.m with total storage capacity of more than 18,000cu.m, and receiving capacity of 80,000 tonnes per year.

Lubricants
Petrolimex lubricant
Total marine lubricant
Lubmarine
Castrol BP lubricant

Asphalts
Asphalts 6070
Asphalts MC
Emulsified asphalt
Polime asphalt

Chemicals

Customer services
Sales volume
Initially 100% of lubricants were imported, but now PLC can produce the lubricants and meet the domestic market demand, accounting for about 20% of the market share. PLC has two lubricant plants with a blending capacity of 25,000tonnes per year each. In 2010, PLC's revenue was VND1,764 billion, an increase of 35% compared to 2019; in which, earnings from export made up 20%, and pre-tax profits reached VND279 billion.
Total consolidated volume, 2017-2020
Unit: Tonne