Lao State Fuel Company (LSFC) and Petrolimex Information Technology and Telecommunication JSC (Piacom) organise the User Acceptance Testing (UAT) for the enterprise resource management software (EGAS-ERP) in Vientiane, Laos on November 14.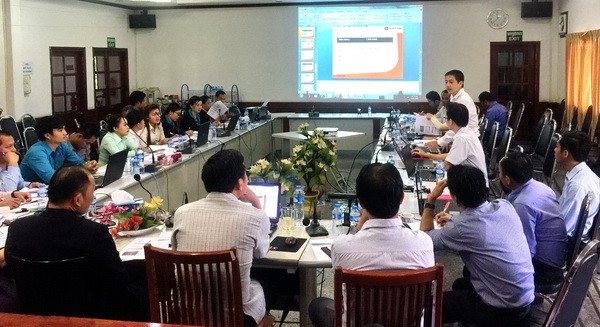 General view of a training class
Participants into the testing include management and professional staff working at the Company's headquarters, branches, and warehouses, and members of project management boards of LSFC and Piacom.
User acceptance testing is a crucial step in ERP implementation in order to ensure that the software meets the demand of and accords with the users' production and business environments; and is a condition to put the software into official operation.
Piacom organises two UAT training classes for 44 trainees from November 14-25, 2016 with contents as detailed:
Training class 1: Training and testing the Material Management (MM) and Sales & Distribution (SD)
Training class 2: Training and testing the Financial Accounting (FI) and Controlling (CO)
The project that supplies and applies the enterprise resource management software EGAS-ERP at LSFC comprises modules, namely Material Management (MM), Sales & Distribution (SD), Financial Accounting (FI), Management Accounting (CO), Warehouse Management (WM) and central infrastructure. EGAS_ERP is an Internet-based software designed as a data concentrator and helps management bodies at all levels access to information from afar through smart devices such as laptop, tablet, and smart phones, timely satisfying demands for information for production and business management.
Of note, EGAS_ERP can easily integrate into the Automation system in order to improve labour productivity and make oil and gas business activities much more transparent. The software is applied at the main headquarters, seven branches and 19 warehouses of LSFC.
As planned, the software is applied within 12 months as of January 2016. The system is expected to go live in the whole system of the Lao State Fuel Company on January 1, 2017.