The Lao State Fuel Company (LSFC) and Petrolimex Information Technology and Telecommunication JSC (PIACOM) jointly organised a ceremony to mark the completion of the EGAS-ERP Management Software System project in Lao capital city of Vientiane on August 31, 2107.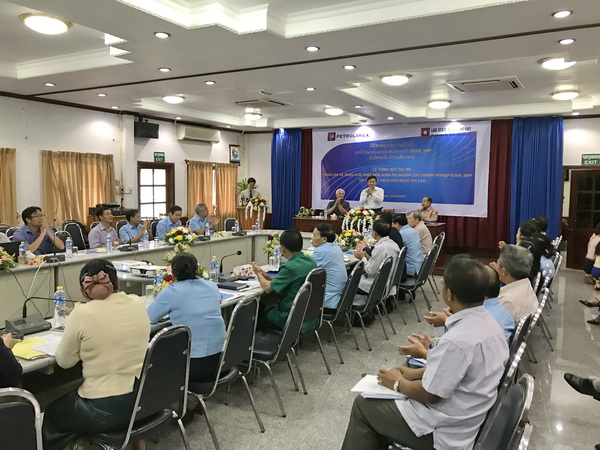 A general view of the closing ceremony of the EGAS-ERP project
PIACOM Director Phan Thanh Son; LSFC Managing Director Phouvone KeoBounlome; LSFC Deputy Managing Director and Director of the LSFC's EGAS-ERP project PhayBoun Phomphaphithak; members of the Board of Management, leaders of divisions/departments and EGAS-ERP project team members from both companies were in attendance at the closing ceremony.
The event also witnessed the attendance of Petrolimex Laos' Deputy Director General Vu Ngoc Tu.
It has been eight months since the PIACOM's EGAS-ERP corporate resource management software system was officially put into operation at LSFC on January 1, 2017. Consequently, 36 operation processes have been standardised, and 96 functions, 86 management reports and five financial reports have been used. The system has gradually met management requirements at LSFC.
Addressing the event, LSFC Deputy Managing Director and Director of EGAS-ERP project Phayboun Phomphaphithak applauded the efforts of the project team members from both companies. He affirmed that the project installation and deployment stages have been completed. To make it a crucial tool in production and business activities, LSFC will have to keep exploiting and operating the EGAS-ERP system. He expressed the hope that PIACOM will further strengthen co-operation with LSFC and wished PIACOM to further thrive in Laos.
PIACOM Director Phan Thanh Son thanked LSFC leadership for having trusted and chosen PIACOM as the supplier of the EGAS-ERP software system; and thanked LSFC staff for having co-ordinated with PIACOM specialists in implementing the project over the past time. He expected that LSFC will continue working with PIACOM in many other projects in the future. He also conveyed his wishes of health and success to the whole LSFC leadership and employees.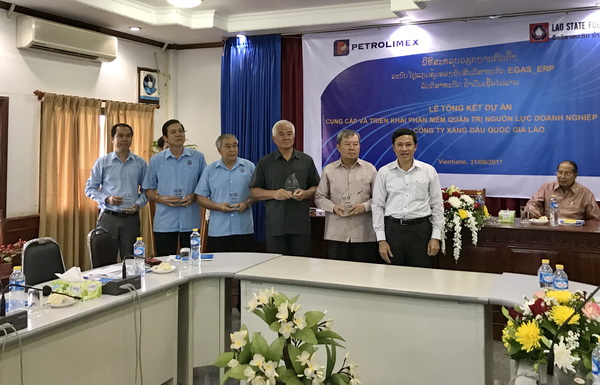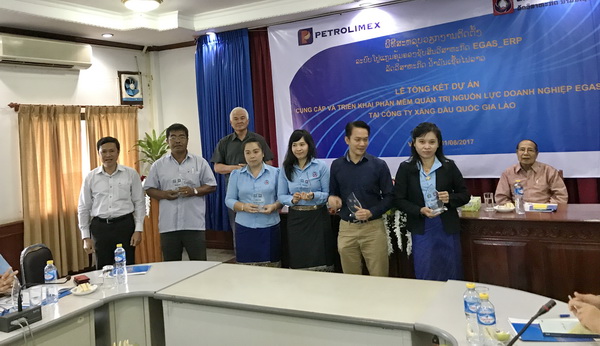 PIACOM Director Phan Thanh Son presents campaign medals to LSFC's EGAS-ERP project members
On the occasion, PIACOM presented campaign medals to LSFC's EGAS-ERP project team members for their performance in implementing the project.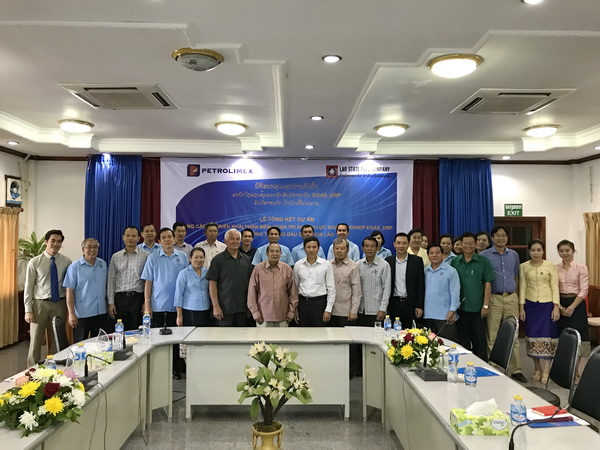 Attendees to the event pose for a group photo
LSFC is one of Lao enterprises that take the lead in applying information technology into business management. Since early 2000, LSFC has deployed the Business Process Management (PBM) software. In order to satisfy the increasingly demanding management requirements, in 2016 LSFC decided to replace the PBM software with a new software of higher technological foundation and managerial possibilities.
The EGAS-ERP software system provided by PIACOM is put into use at the headquarters, seven branches, and 19 warehouses of LSFC. The Internet-based software is designed as a model with concentration of data, enabling managers at all levels to get access to the system from afar through hand-held devices such as laptop, tablet, and smart phone to timely provide information for the production and business management. The EGAS-ERP software inherits all previous management processes and is supplemented with new management processes from the SAP-ERP currently implemented at Petrolimex. Of note, the EGAS- ERP software is designed in order to be integrated with Automation systems to increase labour productivity and make petroleum trading activities transparent. The EGAS-ERP software will be an effective solution to best serve the LSFC's business management.