To proceed with impressive achievements that the whole Petrolimex staff yielded in 2016, the Vietnam National Petroleum Group (Petrolimex) leadership has set 2017 plan targeting growth and efficiency in all seven areas.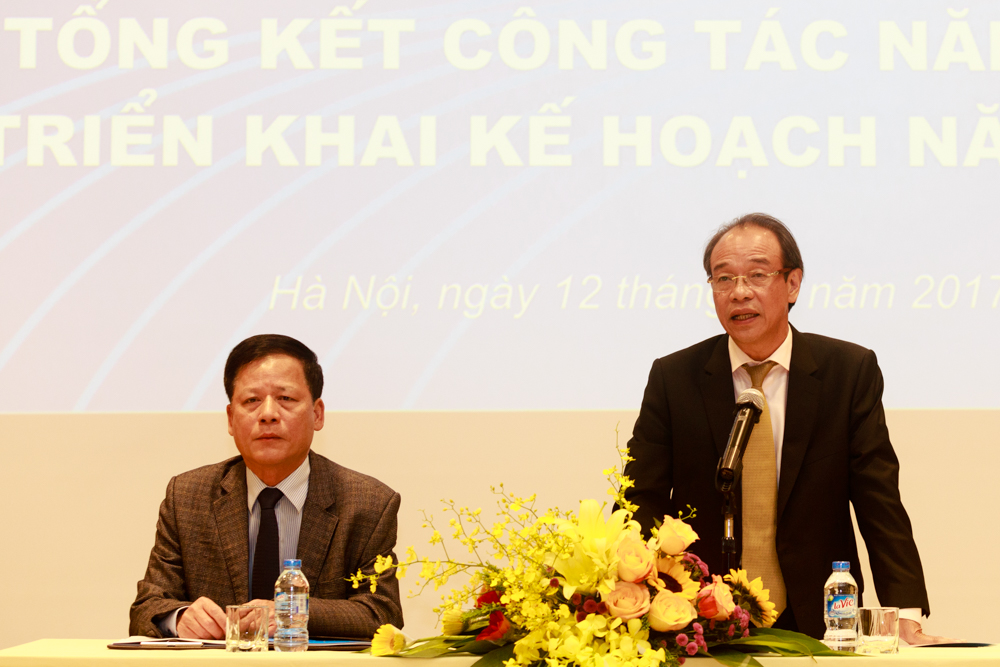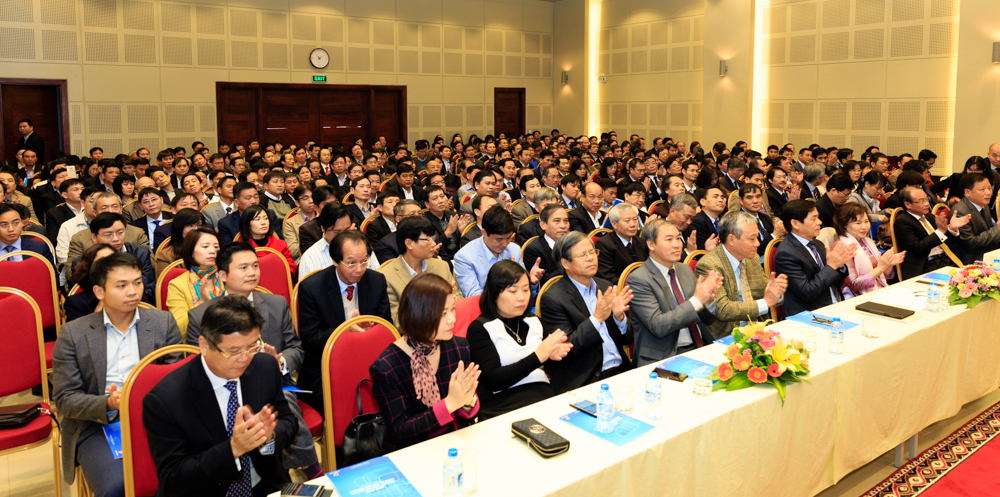 Petrolimex held a conference to review 2016 performance and undertake 2017 tasks in Hanoi on January 12, 2017 (Photo Hong Minh)
In order to successfully fulfill the 2017 plan, the Group leadership set four groups of solutions as follows:
First, to ensure absolute safety for people and property (the system of material facilities, commodities and finance).
This is a fundamental factor in production and business success. Thus, each staff member should always exercise constant vigilance, and enterprises should increase investment in security equipment, fire-fighting devices, and environmental safety and hygiene and strengthen a close relationship with local competent authorities.
Second, to effectively develop the direct selling system on the basis of building, repurchasing, upgrading and expanding, and protecting Petrolimex trademarks; and to accelerate competition movements in labour and production, to successful build up Petrolimex style in selling goods, and to successfully set Petrolimex difference – considered as core elements for sustainable development.
It is significant to maintain optimal inventory level; forecast price and exchange rate and prevent risks due to world fluctuations of price and of the Vietnamese dong against the US dollar; continue practicing thrift, combating waste and taking initiatives for technical improvement; and strengthen circulation network (agent, general agent, franchise and private sellers) to promote the sale of goods and services through all channels and manners effectively. It is also vital to start trading RON 95-III, RON 95-IV and E5 petroleum in line with a route set by the Government, and to intensify communications at petrol stations.
Third, to reinforce internal linkage, to further promote the sharing of experience in developing six areas of non-petroleum goods/services supplied by Petrolimex specialised Corporations/Companies; connecting with competition movements in production and responding to the "Vietnamese prioritise using Vietnamese goods" campaign.
Fourth, to complete procedures for submitting and approving projects related to the restructuring of the petroleum division, and the Road Transport and Mechanics – Construction service division; to issue shares to increase charter capital for Pjico's strategic shareholders, and to continue restructuring PG Bank.
In 2016, thanks to the all-out efforts of all staff in the whole system, Petrolimex witnessed numerous typical examples in all areas: The investment into developing petrol stations (Petrolimex Quang Ninh, Petrolimex Phu Tho, Petrolimex Nam Dinh, Petrolimex Thanh Hoa, Petrolimex Dak Lak, Petrolimex Gia Lai, Petrolimex Phu Khanh, and Petrolimex Can Tho), retail sales of petroleum which exceed the assigned plan from 10 per cent (Petrolimex Phu Tho, Petrolimex Nam Dinh, Petrolimex Nghe An, Petrolimex Dien Bien, Petrolimex Ha Giang and Petrolimex Can Tho), and the selling of over 1,000 tonnes of gas (Petrolimex Thua Thien - Hue, Petrolimex Da Nang, Petrolimex Phu Tho, Petrolimex Ha Bac, Petrolimex Ha Son Binh, Petrolimex Quang Binh, Petrolimex Nghe An, Petrolimex Ha Giang, Petrolimex Hanoi, and Petrolimex Quang Tri), and many others.
The Group leadership hopes that well-performing units continue replicating their success in 2017; and hopes to witness new elements successful on the basis of sharing experience and learning from each other, bringing into full play initiatives suitable with practical circumstances in their own field of operation.
Based on precious experience of one partner – the strategic shareholder JX, the Group established the Kaizen Department to apply new methods in corporate administration. We will continue following suit the spirit "Renew, be creative – to taking you further".
The Group leadership expects that the whole Petrolimex staff will uphold the fine tradition of "responsibility – enthusiasm – optimism - trust", join forces and continue making every effort to successfully attain the 2017 plan.
Happy new year 2017.
loading...