Petrolimex Equipment JSC (PECO) successfully organised a Technical Workshop on New Generation of Fuel Dispenser and Introducing PECO8 products on October 21 in Nha Trang City, Khanh Hoa Province.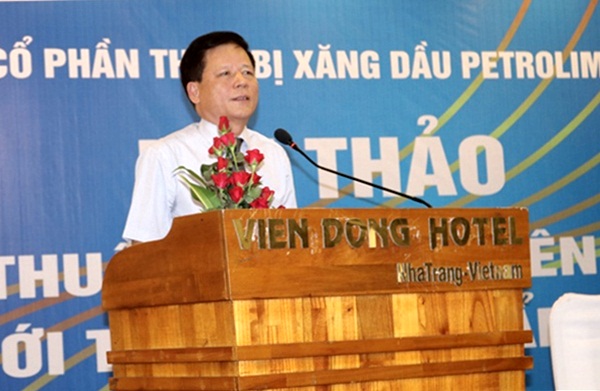 Petrolimex General Director, Tran Van Thinh, delivers a speech at the Workshop
The workshop attendees included General Director of Vietnam National Petroleum Group (Petrolimex), Tran Van Thinh; a representative from Vietnam Directorate for Standards, Metrology and Quality, Tran Thi Thuy Ha; head of Petrolimex's Petroleum Technique Division and chairman of PECO Board of Directors, Do Huu Tao; leaders from Petrolimex's Departments and Divisions; representatives from over 50 companies and branches under Petrolimex; and representatives from enterprises that are close customers and partners of PECO such as Petrol Vietnam Oil Corporation (PVOIL), Military Petroleum Corporation (MIPECORP), Thai Son Corporation – Ministry of Defence; Petroleum Department – Logistics General Department, and Tin Nghia Corporation.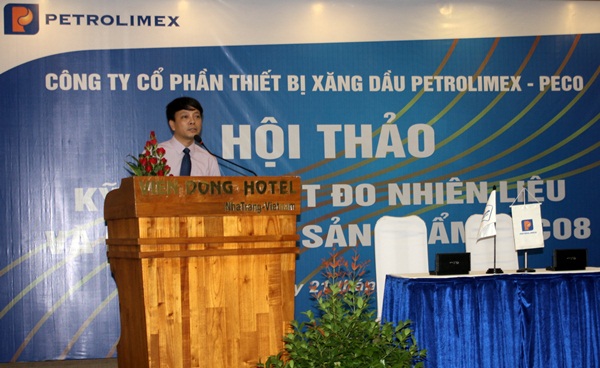 PECO Director, Hoang Van Canh, delivers an opening speech
PECO is known as a Vietnam's leading maker of best quality and most modern fuel dispensers branded PECO and TATSUNO manufactured in state-of-the-art production lines installed and transferred by TATSUNO Japan. Over the past 15 years, PECO has manufactured and put on sold more than 10,000 petrol dispensing pumps of all types, of which 40 per cent were provided to customers outside Petrolimex.

At the workshop, PECO provided information and answered technical questions on new-generation fuel dispensers and sales management system applied to advanced petrol such as: new design and new industrial design, user-friendly multi-pumps, card payment, integrated data transmission, complete security, computer connection, and convenient management of measuring gauge and sale within a petrol station or within a system of petrol stations, which reduce labour force during the whole production and business process.

PECO also took the opportunity to express their gratitude to customers for having used PECO products and services in the past years.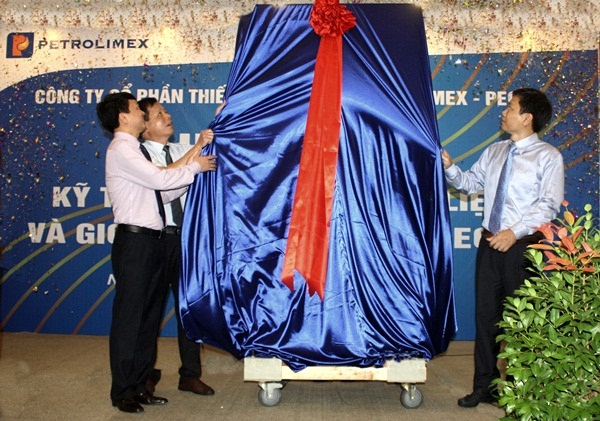 Petrolimex General Director, Tran Van Thinh, and PECO leaders activate and launch the new product
At the workshop, under the presence of Petrolimex General Director, Tran Van Thinh, representatives of State management bodies, and clients, PECO organised a launching ceremony for fuel dispenser PECO8 manufactured by PECO. Besides major TATSUNO devices directly imported from Japan such as pump, and gauge; PECO manufactures frame, shell, flow meter, and other devices. PECO8 has been registered for copyright protection and has its sample approved by Vietnam Directorate for Standards, Metrology and Quality.
The introduction of fuel dispenser PECO8 is of significance to developing more fuel dispensers and further affirming PECO position as a maker of top quality petrol dispensing pumps in Vietnam, enabling customers to have more choices in addition to the current products of PECO.
Signing ceremony of a commercial contract for the consumption of PECO8 between Phu Khanh Petroleum Company and PECO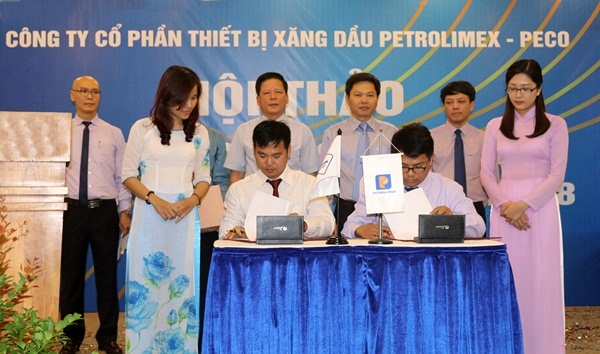 Signing ceremony of a commercial contract for the consumption of PECO8 between Thai Son Corporation and PECO
On the occasion, representatives from customers, Petrolimex Phu Khanh and Thai Son Corporation - Ministry of Defence, congratulated PECO for its success and robust development and for launching the fuel dispenser PECO8.
Additionally, customers appreciated the quality of fuel dispensers produced by PECO as the only devices in Vietnamese market that are stable, trustworthy, durable and tropicalised, and able to meet increasingly strict requirements by State management bodies.
The workshop also witnessed the signing of commercial contracts for the consumption of PECO8 in the third quarter of 2016 and in 2017 between PECO and partners. The activity is a promising start for PECO when launching the new-generation fuel dispenser.
Customer representatives raise questions, and contribute opinions at the Workshop
Addressing the workshop, Petrolimex General Director Tran Van Thinh congratulated PECO on the firm's great progress in recent years, strongly increasing the number of fuel dispensers sold. In 2016 the company planned to have more than 1,000 fuel dispensers sold, equal to the number of Tatsuno dispensers sold in Thailand, of which 40 per cent sold to clients outside Petrolimex.
Of note, the company has sold the products cross-border to Petrol Laos and Petrolimex Laos and will expand the market to Cambodia and Myanmar.
Petrolimex General Director Tran Van Thinh also congratulated PECO leaders and labourers on their solidarity, unanimity, and joint efforts to develop the company more and more. He acknowledged that PECO manufacturing of fuel dispensers has contributed to building up Petrolimex brand through the investment into and installation of fuel dispensers in member companies' filling stations.
The General Director requested PECO to continue studying and developing new products, focusing on human factor; and to maintain the wholeheartedness for each product as well as the trust from customers.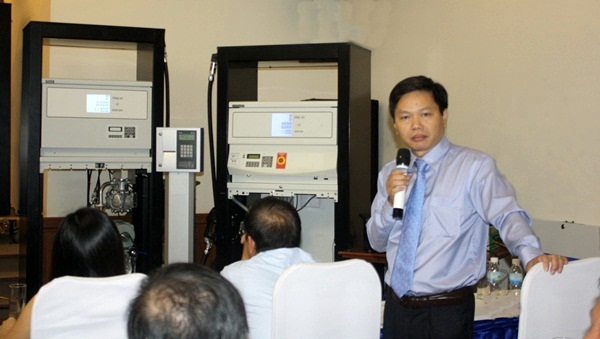 Chairman of PECO Board of Directors, Do Huu Tao, expresses his gratefulness to customers
Chairman of PECO Board of Directors, Do Huu Tao, made a speech expressing his gratefulness to customers and acquiring directions from Petrolimex leadership. The workshop successfully ended in an open and friendly atmosphere and made good impressions on distinguished guests and customers.